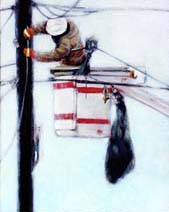 Current Exhibits

"Day In Day Out" see link
Flinn Gallery
101 W Putnam Ave, Greenwich, CT
October 24 - December 4, 2013
Reception: Thursday, October 24, 6-8 pm

"Celebrate"
Studio Place Arts
201 N Main St, Barre, VT
November13 - December 28, 2013
Reception: Saturday, November 16, 4-6 pm
News/Reviews
Heidi Broner is a masterful painter who celebrates (in both this and other work, such as a previous series of paintings featuring a walk in the country with a dog) daily-ness and iconic human activities. Somehow she also manages to express, at the same time, a more elevated, otherworldly experience. This may be the sign of a great artist.
Janet Van Fleet
Vermont ArtZine, April 27, 2009
The strongly rendered figures in Heidi Broner's colorful canvases are frequently in half silhouette. They're isolated, without sharp boundaries, against an atmospheric, misty background,sometimes highly colored. In the balance, gesture and detail of each hand and body, the people are very specific. Nevertheless, the paintings somehow speak of everyman (Spreading Cement, 2006).
Cully Renwick
Vermont ArtZine, August 29, 2009
Broner's arresting compositions portray the gritty reality of the workaday world with a grace that is a tribute to the skill and strength of her subjects. Without romanticizing the labor depicted in her paintings, Broner nonetheless succeeds in reminding the viewer of the many people whose hard work, though vital to the health of our communities, often goes unrecognized.
Tracy Martin
Vermont ArtZine, April 2, 2009
In [the Studio Place Arts exhibit] "Working it Out," Montpelier artist Heidi Broner is exhibiting several small and large-scale paintings, acrylic on canvas, that show construction workers, men putting out fires and workers spreading cement.
'Her paintings are exquisitely rendered and very respectful of the workers,' [Sue Higby, Spa director] said. 'I think that you can't help but look at the paintings she has created and feel a sense of awe about the labor force.'
Jim Lowe
Times Argus